LINE UP
GEORGE APERGIS
Modular Expansion / Athens Voice / Cannibal radio
Ονομα συνηφασμενο με το Techno στην Ελλαδα δεκατιες τωρα. Ιδιοκτητης της Modular Expansion records και διοργανωτης των Modulation Events, μα πανω απο ολα dj και παραγωγος, λατρης του βυνιλιου και της dance κουλτουρας. Let Me Know about Techno Music!
---
BAN
Ban, one half of Full Frontal Nudity, eager providers of fine audio nuisance, is one of Athens' 4 million accomplished djs, dropping mostly electro & techno bombs on his little free time. His major influences are : malaria, post vacational stress syndrome, greek taverna music and gingivitis, to name a few, but above all, his total lack of music knowledge and taste whatsoever. He is well known for his emotionless, brain-numbing, fantasy lacking, vomit inducing, 45hour dj sets, that caused waves of mass suicides on japanese origami sites during late 00's. Ban, as his nickname implies, was recently banned from the underground scene, as he was considered too underground, even if this doesn't make sense at all, which it doesn't.
---
Chaotic Moon
Ο Chaotic Moon, περιπλανιέται στούς χώρους των υπόγειων χορευτικών δράσεων και του minimal synth, και συνιστά ένα από τα ανερχόμενα dj ονόματα, της νεορομαντικής minimal σκηνής.
---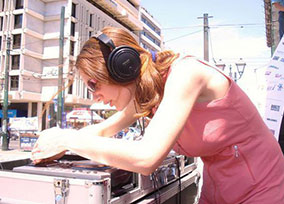 Sissy Stardust
A dj set with thoughtful and eclectic music , harmonious melodies and sounds of sentimental progessive. A beautiful sonic narrative flow from song to song, greatly enlivened with nostalgic tunes, infused and energetic style. Dj Sissy Stardust injects even the softer ambient songs with electricity, creating a brilliant depth and character in each her dj set which becomes memorable and not easily forgotten by anyone. Music|Microphone : dj Sissy Stardust
---
Venus Melena
A Dj Set that is influenced by a wide range of musical styles particularly electronic dance music, such as 80's underground Electro to IDM. Stylistically tends to rely upon individualistic experimentation rather than on a particular set of musical characteristics, that mostly include dark, futuristic soundscapes.
---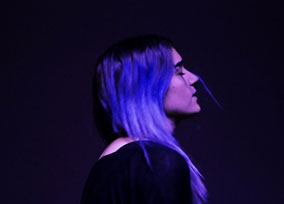 Valisia Odell
Valisia Odell was a member of Phoenix Catscratch and Strawberry Pills and has been djing minimal wave music for 7 years, both in Greece and abroad. She has shared the stage with bands such us The Horrors, The KVB, The Soft Moon, Charles de Goal, Velvet Condom and many more.
---
Lola's Bad